Overview
Red Candy Gift – home of fresh, colourful home accessories and gifts online. Based in Birmingham, England.
Gift Products :
Gifts for Her
Gifts for Him
Wedding Gifts
Quirky & Creative Gifts
Retro Gifts
Keen Cooks & Bakers
Animal Lovers
Wine & Whisky Lovers
Colourful Gifts
Gifts for Globetrotters
Bookworms
Coffee & Tea Lovers
Gifts for Gardeners
Bird Watchers
Butterfly Gifts
Luxury Gifts
Other Products :
Clocks :
(Wall Clocks, Kitchen Clocks & Timers, Cuckoo Clocks, Large Hands Clocks, Mantel & Desk Clocks, World Time Clocks, Alarm Clocks, Photo Frame Clocks, Wall Sticker Clocks, Sunburst Clocks)
Photo Frames :
(Wall Photo Frames, Desk Photo Frames, Floor Standing Photo Frames), (1 – 3 Apertures, 4 – 6 Apertures, 7 – 10 Apertures, 11 – 20 Apertures, 20+ Apertures).
Accessories :
Home Accessories, Kitchen & Dining (Kitchen Utensils, Glassware, Fruit Bowls, Mugs & Cups, Washing Up & Cleaning, Chopping Boards & Worktop Savers, Bread Bins, Kitchen Storage, Tea & Coffee, Tableware, Kitchen Bins & Recycling, Kitchen Appliances, Kitchen Linens, Wine Racks & Accessories)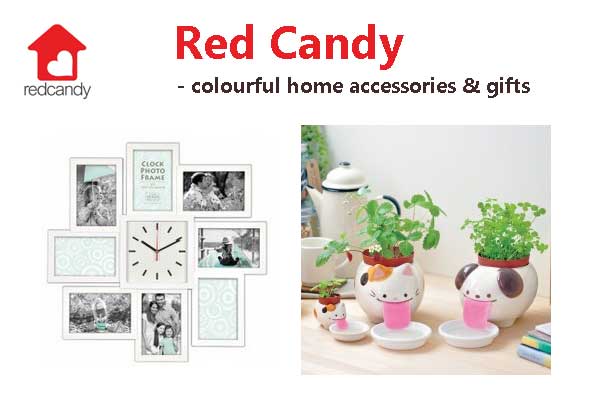 Address :
Red Candy Ltd.
Studio 109, Scott House
The Custard Factory, Gibb Street
Birmingham B9 4AA, United Kingdom.
Phone : +44 121 224 7728
Website: www.redcandy.co.uk
Visited 1190 times, 3 Visits today