Overview
One4all Gift Card – a perfect gift for all occassions.
One4all Gift Card is the perfect gift for friends, family and loved ones. Accepted in over 50,000 outlets ( and over 120 High Street brands, including Amazon, Argos, Marks & Spencer, Boots, Primark, Debenhams & many more) throughout the UK.
The One4all Gift Card can be purchased in all 11,500 Post Office branches nationwide, or online. online-exclusive personalisation feature also allows customers to create their own unique gift cards with photos and messages.
Any Occasion Gift Cards (Black Gift Card, Boxer Gift Card, Cat Gift Card, Cupcakes Gift Card, Doggy Gift Card, Just for you, Personalise My Card, Pink Gift Card, Spend Here Gift Voucher, Thank You Gift Card, Thank You Teacher Gift Card)
Friendship Gift Cards (Count On You Gift Card, Friendship Birds, Friendship Talk, Friendship Tea, Just beecause)
Birthdays Gift Cards (18th Blue Gift Card, 18th Pink Gift Card, 21st Blue Gift Card, 21st Pink Gift Card, Happy Birthday Confetti)
Just a Treat Gift Cards (Just for you, Pamper Yourself Gift Card, Spend Me Grey Gift Card, Spend Me Pink Gift Card, Spoil Yourself Gift Card)
Other Occasions Gift Cards (Chinese New Year, Congrats Gift Card, Dove Gift Card, Father's Day, For Mum, Mum Gift Card, New Baby, Thank You Teacher Gift Card)
Wedding and Milestone Gift Cards (Anniversary Card, Engagement & Wedding)
Delivery :
All orders are subject to credit card clearance. all orders received and cleared within 24 hours. Average delivery times are 1-2 days with the exception of Personalised Cards which may take 3-4 working days.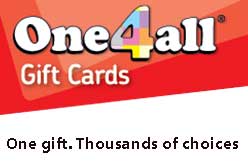 Address :
PO BOX 52796, London, EC1P 1ZA
Phone :
03700 84 4444 (General Enquiries)
03700 84 4444 (Customer Service)
03450 82 2480 (Balance Enquiry)
020 7608 2008 (Sales & Corporate Sales)
Website : www.one4allgiftcard.co.uk
Visited 1350 times, 1 Visit today