Overview
Palmers Solicitors Kingston Upon Thames
Professional Experienced Solicitors in London, UK.
Legal Services :
House Sales and Purchases
Business Sales & Purchases
Private Client
Family Law
Civil Litigation
Company & Commercial Work
Accident & Personal Injury Claims
Landlord and Tenant
House Sales & Purchases :
All legal requirements in respect of selling and purchasing homes whether freehold, leasehold or commonhold.
Private Client :
Probate, Wills, Lasting Powers of Attorneys, Trust and Tax.
Family Law :
Pre-nuptial agreements, divorce, separation agreements, childcare, wardship and all legal matters relating to family life.
Business Sales & Purchases :
Buying and selling of all business premises on long or short leases or freehold purchases. Including licensed premises, offices, shops, factories, warehouses, in fact any business premises at all.
Accident & Personal Injury Claims :
Advice on compensation for all types of accident and personal injury at work or play, including motor accidents.
Landlord & Tenant :
All types of tenancies including assured shorthold tenancies, periodic tenancies, regulated tenancies, short and long term residential leases.
Civil Litigation :
Neighbour disputes, boundary disputes, bad debts, debt collection generally and civil disputes between individuals or companies.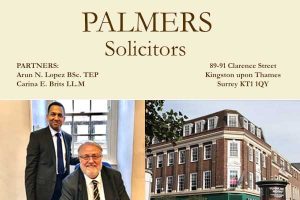 Contact Address :
Palmers Solicitors
89-91 Clarence Street
Kingston upon Thames
Surrey KT1 1QY
DX 31524 Kingston upon Thames
Phone: 020 8549 7444
Fax: 020 8547 2117
Office Hours : 9:15 – 5:15 Mon – Fri
www.palmerssolicitors.co.uk
Visited 60 times, 1 Visit today