Seth Lovis & Co Solicitors
– Personal Injury Solicitors London. Specialise in general company commercial advice, litigation and employment law including redundancy and policy issues.
Seth Lovis and Co Solicitors is a modern law firm based in the heart of Covent Garden in London. We act for businesses and individuals throughout England and Wales.
Personal injury practice areas :
Accidents Abroad
Accidents at Work
Asbestos Disease Claims
Burn Injury Compensation
Catastrophic Injury Claims
Industrial Injury Claims
Military Injury Claims
Road Traffic Accidents
Address :
33 Henrietta Street
Covent Garden, London WC2E 8NA
Phone : 0808 250 8942 / 020 7420 7020
Freephone : 0800 508 8100
Email : enquiry@sethlovis.co.uk
Website : www.sethlovispi.co.uk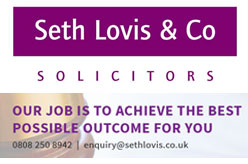 Visited 748 times, 1 Visits today