Overview
NINETY PERCENT
The premium womenswear label sharing 90% of profits.
Ninety Percent is a responsible label on a mission: to be the best for its customers, producers and the planet.
Launched in 2018, the London-based brand is aiming to share 90% of its distributable profits between the people that make the collections and five charitable causes – and you have the power to vote for the one you wish to support.
From super-soft organic cotton sweats to beautifully crafted essentials made with planet-friendly materials, each collection shows a commitment to transparency and inches towards a more sustainable future.
Products :
– Bodysuits (short-sleeve t-shirt style, modern tie-dye, long-sleeved roll neck)
– Bottoms (Jumpsuits, Sweatpants, Shorts, Leggings, Wide-leg, Zip-up)
– Dresses (Long Sleeve, Maxi, Midi, Mini, Knitted)
– Jumpsuits
– Knitwear (Organic Merino wool jumpers and cardigans, Classic crew-neck styles, Chunky statement knits)
– Skirts (Mini, midi or maxi; they're soft, slinky and ribbed for your leisure)
– Tops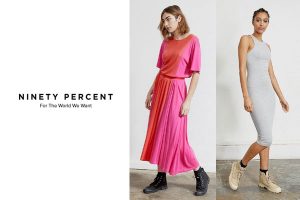 Where to Buy ?
FREE UK Shipping & Returns on Sustainable Fashion At Ninety Percent.
Order online at ninetypercent.com
Visited 559 times, 4 Visits today