Overview
Zuma
Zuma Japanese Restaurant offers traditional japanese izakaya style of informal eating and drinking. Japanese Restaurant serves Lunch, Dinner and Drinks, Located in Knightsbridge, London.
Cuisine : Japanese and Sushi Bars.
Services :
– Lunch, Dinner and Drinks
– Takes Reservations
– Good For Groups
– Waiter Service
Payment Options : Visa, American Express, Mastercard and Cash.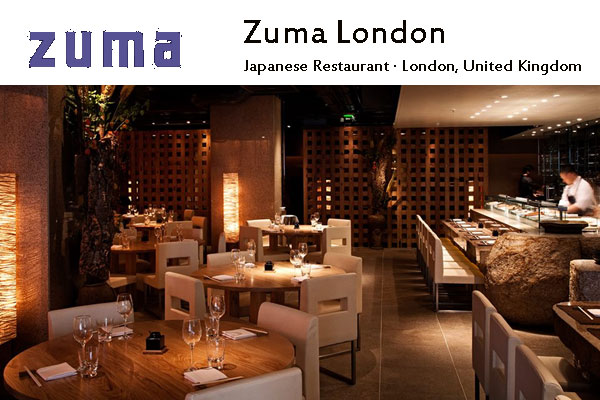 Address :
Zuma London
5 raphael street
knightsbridge, London SW7 1DL, UK.
Phone : +44 20 7584 1010
Fax : +44 20 7584 5005
Email : [email protected]
Opening Hours :
Mon-Fri : 12:00 pm – 3:00 pm and 6:00 pm – 11:00 pm
Sat : 12:30 pm – 3:30 pm and 6:00 pm – 11:00 pm
Sun : 12:30 pm – 3:30 pm and 6:00 pm – 10:30 pm
Website : www.zumarestaurant.com
Visited 2435 times, 5 Visits today