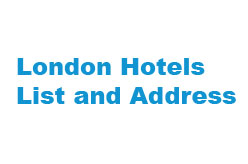 List of West End Hotels London :
Hotels near West End, London on Bizdiruk. Welcome to UK hotels listings. Find London Hotels list and address in one place – West End London hotels and address.
West End Hotel Name
West End Hotel Address
Millennium Hotel London Mayfair
Millennium Hotel London Mayfair
44 Grosvenor Square
Mayfair, London, W1K 2HP
United Kingdom
T. +44 (0) 20 7629 9400
F. +44 (0) 20 7408 0699
Email : reservations.mayfair[at] millenniumhotels.com
Website : millenniumhotels.co.uk/ millenniummayfair
City Marque Oxford House Serviced Apartments
– Luxurious serviced apartments located within central London.
Oxford House Serviced Apartments
Scala House, 21 Tottenham St,
London W1T 2AW, United Kingdom
Phone : +44 (0) 3333 11 3333
Web Address : www.citymarque.com
Cheshire Hotel
Cheshire Hotel
110 Great Russell St,
London WC1B 3NA, United Kingdom
Phone : +44 (0)20 7637 7777
Email : [email protected]
Web Address : www.cheshirehotellondon.com
Living Rooms
– Boutique hotel suites and luxury serviced residences in London.
Living Rooms London – The Hotel Alternative
5 Maddox St, Mayfair,
London W1S 2QD, UK
Phone : +44 (0)20 7647 0200
Fax : +44 (0)20 7647 0300
Email : [email protected]
Web address : www.living-rooms.co.uk
The Shaftesbury Premier London Piccadilly Hotel
The Piccadilly London West End
65-73 Shaftesbury Avenue, London,
Piccadilly W1D 6EX, UK
Phone : +44 (0) 20 7871 6000
Fax : +44 (0) 20 7871 6001
Web address : www.theshaftesbury.com
Bloomsbury Park Thistle Associate Hotel
The Bloomsbury Park Hotel – A Thistle Associate
126 Southampton Row
London WC1B 5AD
Phone : 0871 376 9007 / +44 845 305 8307
Fax : 0871 376 9107 / +44 845 305 8346
Web address : www.thistle.com
The Z Hotel Piccadilly
The Marylebone Hotel a member of The Doyle Collection
The Mandeville Hotel
Hotel Cafe Royal
Washington Mayfair Hotel
The May Fair Hotel
The Langham London
Radisson Blu Edwardian, Hampshire
Park Lane Mews Hotel
The Bloomsbury Hotel a member of The Doyle Collection
Rosewood London
The Royal Horseguards
Club Quarters, Trafalgar Square
Durrants Hotel
ME London by Melia
Courthouse Hotel London
The Grand at Trafalgar Square
The Z Hotel Soho
Melia White House Hotel
Thistle Holborn, The Kingsley
Radisson Blu Edwardian, Bloomsbury Street
Flemings Mayfair
Holiday Inn London Oxford Circus
Sanderson, A Morgans Hotel
Park Plaza Sherlock Holmes London
Radisson Blu Edwardian, Mercer Street
Sofitel London St James
Holiday Inn London – Regents Park
City Marque West End Serviced Apartments
St Martins Lane, A Morgans Original
W London Leicester Square
Ten Manchester Street Hotel
Holiday Inn London Mayfair
The Waldorf Hilton
Le Meridien Piccadilly
Amba Hotel Charing Cross
The London EDITION
St James Hotel & Club
The Savoy
The Level at Melia White House
Corinthia Hotel London
The Montague On The Gardens
Hilton London Green Park
One Aldwych
DoubleTree by Hilton London – West End
Smart City Apartments Covent Garden
Athenaeum
The Beaumont Hotel
Westbury Mayfair
Saint Georges Hotel
Club Quarters Lincoln's Inn Fields
The Nadler Soho
Thistle Trafalgar Square, The Royal Trafalgar
Strand Palace Hotel
The Hoxton, Holborn
44 Curzon Street By Mansley Serviced Apartments
The Chesterfield Mayfair
Citadines Trafalgar Square
Astor Court Hotel
Mermaid Suite Hotel
Radisson Blu Edwardian, Berkshire
Ascott Mayfair London
Regency Hotel Parkside
LSE Grosvenor
LSE Northumberland House
Nottingham Place Hotel
Covent Gardens Gem
The Elegant Mayfair
Citadines Holborn – Covent Garden London
Smart City Apartments Oxford Street
Mayfair Apartments
Sanctum Soho Hotel
Radisson Blu Edwardian, Kenilworth
Shaftesbury Avenue Apartments
Ham Yard Hotel
Covent Garden Apartments
The Ritz London
The Soho Hotel
Hazlitt's
Grange Holborn Hotel
Regency Hotel West End
Rathbone
LSE High Holborn
West End One Apartments
Modern Bond Street Apartments
Marisa Hotel
Rocco Forte Brown's Hotel
Piccadilly Circus Studios
Claridge's
The Connaught
Charlotte Street Hotel
Dukes Hotel
Blandford Hotel
Gresham Hotel Bloomsbury
Bond Street Station Serviced Apartments
Covent Garden Guesthouse
Covent Garden Hotel
The Park Lane Hotel
Marylebone house
North Audley street Apartments
SACO Holborn – Lamb's Conduit St
Three Bedroom Apartment in Covent Garden
Page updated : 26th April, 2017.