Overview
Langley Travel
Professional Travel Agency based in Dorchester, Dorset. Offering holidays worldwide.
Destinations :
– Britain – London, Edinburgh, Welsh, Dublin.
– Europe – Swizterland and Austria, Spain, Holland, Moscow, France, Italy, Greece.
– USA & Canada – Florida, Nevada and Texas, New York, Philadelphia, Canada.
– Caribbean – Barbados, Jamaica, Saint Lucia, Cancun, Trindad and Tobago.
– South America – Buenos Aires, Lima, Machu Picchu, Cuzco, Santiago, Atacama Desert, Easter Island, The Galapagos, Sacred Valley.
Last minutes bookings, special offers, bargain cruises and exceptional deals visit here.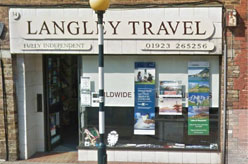 Address :
Poundbury Office
9 Challacombe Square, Poundbury, Dorset DT1 3SX
Phone : 01305 852234
Email : angela[at]langley-travel.co.uk
Abbots Langley Office
34 High Street, Abbots Langley
Hertfordshire WD5 0AR
Phone : 01923 265256
Email : sales[at]langley-travel.co.uk
Website : www.langley-travel.co.uk
Visited 1657 times, 3 Visits today