Overview
Karl Marx The Walking Tour
Guided walking tour of Karl Marx's in London, his life, times, ideas and a great understanding of Soho life in the 19th century.
Products :
– Karl Marx in London his life and ideas. A walking tour in Soho.
How to book a ticket ?
Ticket price : £8 – £10. Buy your tickets online here.
When & Where to meet ?
In front of the Criterion Theatre
Piccadilly Circus London W1J 9HT, United Kingdom.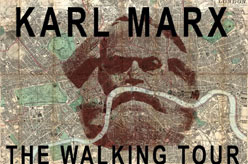 Address :
THE KARL MARX WALKING TOUR
Criterion Theatre Piccadilly, London W1J 9HT, England, UK.
Phone : +44 7722 523629
Email : admin[at]marxwalks.com
[at] = @
Website : www.marxwalks.com
Visited 805 times, 3 Visits today