Host-it™ Internet Solutions
Host-it Internet Solutions is a UK based web hosting company and and operating its own data centres since 1995. Host-it runs and staff its own full specification ISO 27001 certified data centres in the UK.
Data Centres : Milton Keynes Data Centre, Bletchley Data Centre and Northampton Data Centre 1 and 2.
Products :
Domain Name Registration

Popular Extensions (.uk .co.uk .com .net .org)
Company / Government / Educational (.sch.uk .gov.uk .org.uk .ac.uk .ltd.uk .plc.uk)
Alternative Extensions (.co .me.uk .uk.net .ws .gb.com .eu.com .gb.net
.uk.com .eu)

Website Hosting

Business Hosting Plans from £5.24 p/m
Multi-Site Hosting Plans from £22.46 p/m
Reseller Hosting Plans from £22.46 p/m
Home User Plans from £2.24 p/m
Specialist Hosting Plans (Linux Hosting, Coldfusion Plans, Magento Hosting, WordPress Hosting, Actinic Hosting)

Virtual Private and Virtual Dedicated Servers

Linux Cloud VPS From £9.49
Windows Cloud VPS From £16.03
Virtual Dedicated From £29.99

Dedicated Servers

Dedicated Servers (Contract Subscriptions) From £48.75 pm
Dedicated Servers (Pay As You Go) From £59.96 pm
Backup / Storage Servers From £210.42 pm
Redundant / Cluster Solutions call for pricing

Rack Space

Full Racks, Half Racks and Quarter Racks

Backup Service

Backup-Lite (Workstations and laptops and simple file back up on servers)
Backup-Pro (File and web servers and business critical work stations)
Address :
Nuco Technologies Ltd
Unit 1, Northampton Science Park,
Kings Park Road, Moulton Park Industrial Estate,
Northampton NN3 6LG, UK.
Phone :
Sales : (0844) 745 1300
General Enquiries : (0844) 745 1300
Accounts : (0844) 745 1300
Reception : (0844) 745 1300
Fax (all departments) : (0844) 745 1303
Email : sales@host-it.co.uk
Address : www.host-it.co.uk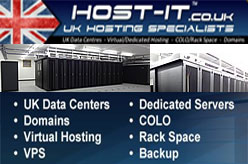 Visited 1093 times, 1 Visits today