Overview
Cox and Kings UK
Travel agency in London offering high quality group tours, private journeys and tailor-made holidays.
Services :
Small Group Tour
Private Tour
Tailor-made Tour
Short Breaks
Honeymoon
Destinations :
Indian Subcontinent (India, Nepal, Bhutan and Sri Lanka).
South America
Central America
Far East (Borneo, Burma / Myanmar, Cambodia, China, Indonesia, Japan, Laos, Malaysia, Mongolia, North Korea, Papua New Guinea, Philippines, Singapore, South Korea, Taiwan, Thailand, Vietnam).
Europe
Africa
Middle East
Central Asia
Australasia Pacific (Australia, Cook Islands, Fiji, French Polynesia, New Zealand, Papua New Guinea, Samoa).
North America (Canada, Mexico, United States Of America).
Polar Region / Destinations (Antarctica, Arctic, Argentina, Canada, Chile, Falkland Islands, Finland, Greenland, Iceland, Norway, Russia, Sweden)
Indian Ocean (Maldives, Mauritius, Seychelles).
Caribbean (Antigua, Barbados, Bermuda, British Virgin Islands, Cuba, Grenada, Jamaica, St Kitts & Nevis, St Lucia, St Vincent & the Grenadines).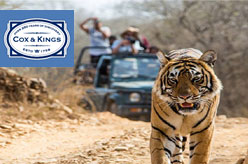 Address :
Cox & Kings Travel Ltd.
6th Floor 30 Millbank London SW1P 4EE, England.
Phone : 020 3811 0899 (General), 020 7873 5014 (Reservations).
Opening hours :
Monday to Friday 9:00am – 6:00pm
Saturday 9:30am – 5.00pm
Closed on Sundays and Bank Holidays.
Website : www.coxandkings.co.uk | Fecebook
Visited 1411 times, 1 Visit today