Overview
Bowl Of Chalk Private Tours
Tailor made guided private weekend walking tours in London. The groups are kept small, which means that you're guaranteed to get a better experience.
Two Saturday walks and a Sunday walk. Each about 3hrs (ish).
– SATURDAY 10.30am – Trafalgar Square to St Paul's.
– SATURDAY 2.30pm – St Paul's to Monument.
– SUNDAY 11am – My neck of the woods (east end).
Booking : You have to book in advance. You will just need to contact through the website and say which walk you'd like to book on. for booking visit here – www.bowlofchalk.net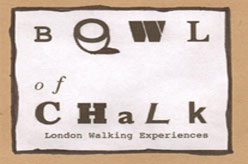 Address :
London, England.
Email : jonnie[at]bowlofchalk.net
Website : www.bowlofchalk.net
NB. replace email [at] = @
Page updated : 6th April, 2017.
Visited 1052 times, 1 Visit today